About TAI
Tierra Astronomical Institute (TAI) was incorporated as a non-profit in the early '80s with the mission to provide quality astronomical facilities for education and research. TAI is centered on its interest in Tierra Del Sol (TDS) Observatory located in the high desert sixty miles east of San Diego. The TAI board consists of part time volunteers whose duties include operation and maintenance of the observatory. Students and faculty are encouraged to apply to TAI to use TDS Observatory for class instruction or for research projects. TAI staff are available to lend their experience and provide free consulting both for TDS Observatory projects and in the design, construction and operation of observatories at other locations. TAI relies on equipment and cash donations to maintain operation.
Trips to TDS Observatory can be scheduled for a range of activities, from basic lab exercises to student and faculty research projects. Its computer controlled 24" F8 telescope, is fully equipped to support a range of projects with scientific quality CCD sensors, photometric and narrow band filters and a 100 lpm transmission grating. Projects spanning several nights of observing over long time periods can be arranged. The telescope has two optical paths and can accommodate user provided instrumentation.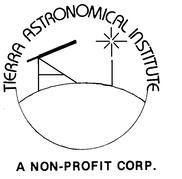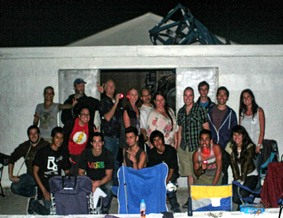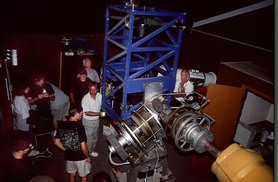 Sina Sadjadi hosting teacher training at TDS.
Students from Mesa College at TDS Observatory.
TAI was incorporated while TDS Observatory was being built. Original observatory owners, Sina Sadjadi, Jesse Goldbaum, Mike Hoffert and Larry Dingle determined that the observatory was a resource that should be put to wider use. Mike, Sina, and Jesse are TAI board members in addition to Bob Harwell. Mike and Sina teach astronomy classes and private and community colleges. They have been instrumental setting up campus observatories at their schools. Jesse retired in 2011 from an aerospace career where he worked on advanced imaging and electro-optical applications. Bob is a retired electrical engineer whose expertise in several areas has contributed greatly towards increasing the capabilities that TDS observatory has on offer.
Though the focus is geared towards research and educational projects, TAI also supports efforts to reach out to the wider public. TDS Observatory, located at the San Diego Astronomy Association site, is typically open when SDAA has its general public star parties and TAI board members often volunteer their time supporting other general outreach efforts.
TAI board members are available to assist with planning, training and observatory operation. Teacher and volunteer training at the observatory or on campus visits can also be arranged.